Garden of Life Mykind Organics Plant Iron & Organic Herbs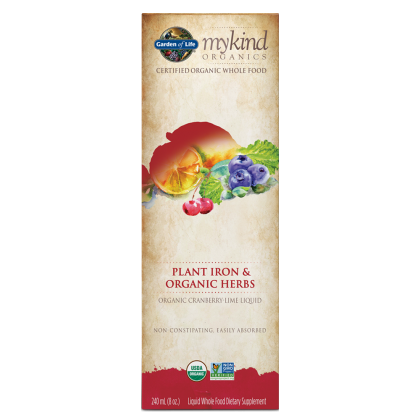 Garden of Life Mykind Organics Plant Iron & Organic Herbs
Fortify your health with mykind Organics Plant Iron & Organic Herbs, a whole food, great-tasting liquid iron made from over 35 real plant sources that are Certified USDA Organic and Non-GMO Verified.
Offered in a delicious organic cranberry-lime flavor, it's non-constipating, easily absorbed.
8 oz.
Support your blood health and provide energy to the entire body with 10mg of whole food plant iron.
Promote iron absorption and utilization with organic Amla vitamin C and whole food vitamins B6 and B12.
Support healthy iron and energy levels with ayurvedic organic herbs: Ashwagandha, Amla and curry.
- Source: Garden of Life